Lucy Pedler – Architect and Director of the Green Register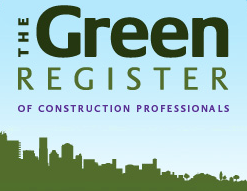 "I look forward to a fossil fuel free future. It may sound strange but I would like us to use up the oil really quickly so we can get past it and start using renewable solutions for a sustainable future", Lucy Pedler.
 What is your job about?
I'm an architect by training, I took a sidestep from my career in 1996 and started working for an environmental building centre in London. We advised other construction professionals such as architects, engineers, surveyors and builders about sustainable building practices.
As I worked there I realised there were three big barriers to the uptake of sustainable building practice. There was a lack of independent information and advice, so the first thing I identified was the need for high quality unbiased information.
The second barrier I saw was that we had a lot of clients who visited the centre and were really keen to build sustainably but as soon as they walked out of the door they couldn't find any construction professionals who could serve them so the ended up going to someone they knew who may not have been green. We wanted to create a register that was free to access and people could search by their area or discipline and find sustainable construction professionals.
The third barrier was that it felt incredibly isolating doing this sort of work. The vast majority of the profession was still doing very high impact energy inefficient buildings. I wanted to get like minded people together so they didn't feel so isolated. Our members give support, share ideas and make professional connections.  Originally the Register was just going to be for London but I think we hit a nerve when we set it up and it was very well timed. Word got out and now we are a national organisation.
What issues do you address?
Lack of register for sustainable construction professionals
The need to network with like mind people in this field
The demand for independent information
What moved you to take action?
I have had sustainability indoctrinated in me my whole life. My father was a doctor and an environmentalist and we would sit around the table and talk about things that were happening in the world. These issues resonated with me and I am lucky to have found a career that allows me to raise awareness about sustainability in the construction industry. I went down the architectural route but I was never really 100% comfortable with it because there were so many negative things that buildings do. When I created The Green Register it combined my passion and my profession.
What helped you keep going in hard times?
I just love what I do. It's a lifelong learning process, and I meet so many people who do just get it. They keep me going.
On a scale of 1 to 10 (10 being very happy) where would you rate how you feel about your life?
10 – with the exception of my husband's diagnosis.
http://www.greenregister.org.uk/ 
https://www.earthchampions.org/wp-content/uploads/logo.svg
0
0
Earth Champions® Foundation
https://www.earthchampions.org/wp-content/uploads/logo.svg
Earth Champions® Foundation
2019-01-10 15:30:16
2019-01-10 15:30:16
Lucy Pedler – Architect and Director of the Green Register